Work is always stressful and tiring. Due to this, our health will deteriorate and will feel demotivated to move on. Hence, I always try to spend some time off no matter how busy for some me time. It's important to recharge to get ready to fight again.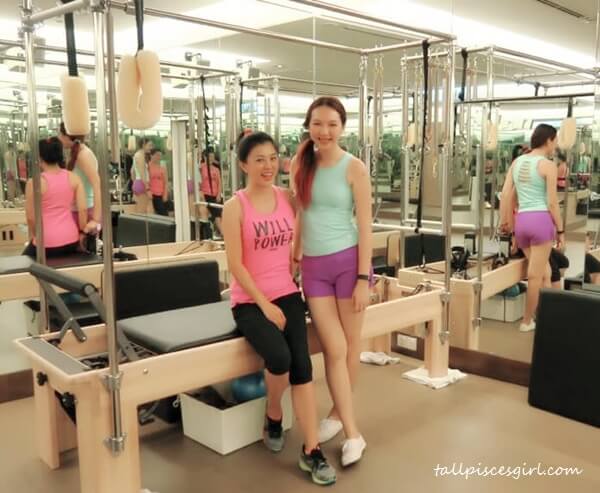 Pilates Reformer @ Phillip Wain
For me time, everyone will think of spa or massage. Do you know that exercise is important too? I'm glad to join the newly launched
Phillip Wain Pilates Reformer
session with my girl friend,
Kelly Chin
. This is something new for us as both of us have never tried doing Pilates using reformer machine. For this class, we're using the 3-in-1 comprehensive machine. It is a bed-like frame with a flat platform on it, called the carriage, which rolls back and forth on wheels within the frame. In hospitals and physiotherapy centres, this machine is used to help patients to regain muscle strength, but at Phillip Wain, they will focus more on improving our posture and muscle flexibility.
Using Pilates Reformer machine, we incorporate all the exercise techniques from Pilates and turn them into an intense workout that targets the whole body. We first started out by learning the most basic but also the most important thing –
breathing technique
. Unlike yoga's breathing technique with inhales and exhales through the nose, Pilates breathing technique is inhale through the nose but exhale via the mouth.
After some simple warm-up, we proceed to train other major muscle groups in the body, including the core. I can feel a good stretch on my muscles and this gives me satisfaction! Imagine your fat melting as you sweat them all out. I really find this session useful because it helps to ease the tight muscles on my body due to lack of exercise and sitting too much. I'm sure many OL (office ladies) are experiencing this too.
Just wanna share with you girls on some of the benefits of Pilates Reformer:
Improve Breathing We get to learn how to breathe properly with the assistance of Pilates Reformer
Develop a Stronger Core Muscle You get to work all major muscles in the body, including the core. When you have a strong core, you can generate power easier without getting injured.
Improve Muscle Flexibility The machine engages various muscle groups through a full range of motion, giving every muscle fiber a good stretch.
Promote Proper Posture Ms. Ling, my coach helped me to identify how it feels like to be in neutral spine condition during Pilates Reformer. My spinal alignment improved, allowing the body to stabilize to reduce lower back pain.
After 10-12 classes of minimum twice a week, you may notice postural improvement! Pilates Reformer is suitable for any age and any body condition. All you need to do is let your trainer know what are your concerns and specific needs, if any.
At first, I was wondering what's the difference between yoga and Pilates. After doing some homework, I finally understand. Yoga requires moving from one static posture to the next, while Pilates flows through a series of movements that are more dynamic, systematic and anatomically-based using resistance equipment. Yoga also focuses more on improving flexibility, while the main goal in Pilates is to strengthen the muscles and improve posture.
Pilates Reformer

Duration: 1 hour/class Price: RM280/class Special Trial Price: RM180
Phillip Wain is an exclusive all-women club that is convenient for us to enjoy our privacy and focus on our wellness. There are lots of fitness machines and equipment available for members to use.
After an hour of muscle stretching and exercise, what's perfect is either a massage or body therapy session to ease the tiredness!
Unlike other wellness centres, Phillip Wain have dedicated rooms and staffs for facial, spa and massage. This time around, I have tried the newly introduced
3R Body Contouring & Wellness Therapy
.
3R Body Contouring & Wellness Therapy @ Phillip Wain
The machine that was used for 3R Body Contouring & Wellness Therapy was exclusively imported from Korea and approved by US FDA.
3R stands for:
Reshape body contour
Regenerate muscle function
Revitalize body & mind
3R Body Contouring & Wellness Therapy uses the combination of
infrared, strong vibration and vacuum system
to achieve contouring and wellness effect to the body.
The treatment started with 3R Back Body Wellness for 30 minutes which is perfect for back aches and relieve fatigue. The first spot is to incorporate infrared and vibration on the sole area to promote lymphatic drainage and increase metabolism in order to get rid of toxin and wind. Besides, it is able to enhance Qi and increase blood circulation. For me, the feeling was amazing because I felt as if the tension that has been building for so long was shaken away by the vibration. 3R Back Body Wellness Therapy is recommendation to be done 2-3 sessions weekly with facial, slimming, or massage treatments i.e. HIFU/Roboslim Therapy to enhance the efficacy of slimming.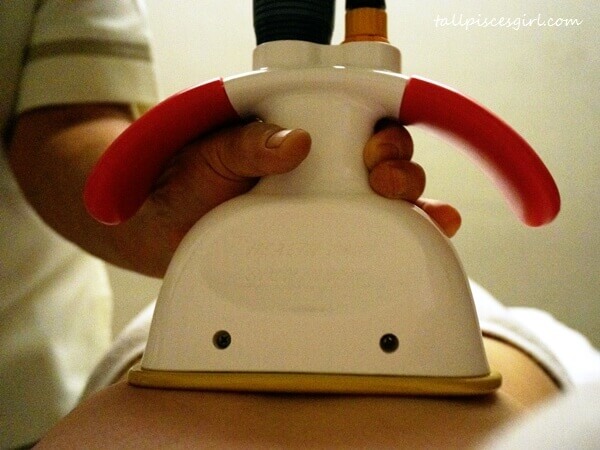 After 3R Back Body Wellness, we moved on to target the parts on body that needs fat reduction and toning especially flabby parts. Using the vacuum suction with infrared heating effect, it also helps to reduce cellulite and detoxify the body. Different parts of the body may have difference tolerance towards heat. If you feel that it's too warm for you, remember to tell your therapist because the heat level is adjustable for your comfort.
3R Body Contouring Body Treatment

Price: RM798 Special Trial Price: RM138
After the session, my tummy starts to rumble! Luckily I can grab a bite at their healthy food bar. This is a value-added facility that members can use anytime, be it while waiting for their next pampering session or after a satisfying workout class.
This was what we had – a healthy tuna club sandwich with a glass of orange juice. We're happy for being a good girl because at least our workout session didn't go to waste. Hurry, book your Pilates Reformer session and 3R Body Contouring & Wellness Therapy now to get special trial price!
Phillip Wain Clubhouse Malaysia
Millenium Tower
Address: Level 1-2 & 2-3 8 Jalan Damanlela Bukit Damansara 50490 Kuala Lumpur Tel: 603 – 2092 2200
Starhill Gallery
Lot S28-S37 Pamper Floor No 181, Jalan Bukit Bintang 55100 Kuala Lumpur Tel: 603 – 2148 2200
Operation Hours
Mon-Fri: 7am-9pm Sat: 7am-6pm Sun: 11am-6pm Pubic Holiday: 11am-6pm Facebook Page:
https://www.facebook.com/phillipwainmalaysia