Hey gurls! Last week, yours truly was invited to
THE FACE SHOP's new 5th Generation of Flagship Store
at Pavilion Kuala Lumpur. By new, it doesn't only mean new concept but also a brand new location! It was first opened at Level 3 back in year 2007 and has since captured the hearts of beauty fanatics with their high quality Korean products.
THE FACE SHOP Flagship Store @ Pavilion KL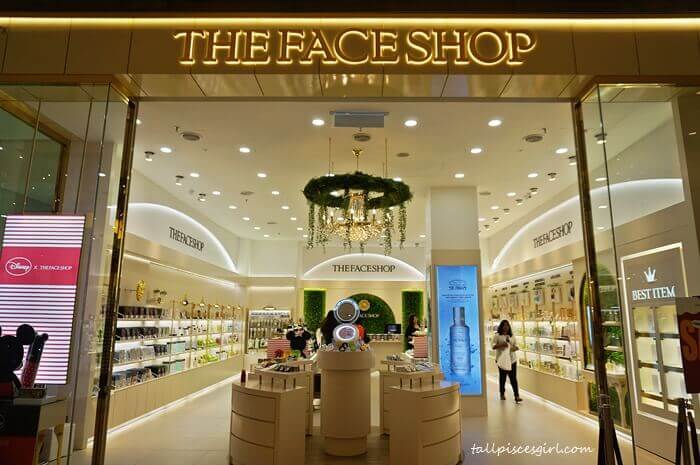 THE FACE SHOP has relocated to
Lot 4.52.01, Level 4 @ Pavilion Kuala Lumpur
, with a face lift. THE FACE SHOP's 5th Generation store concept was inspired by their brand philosophy of making customers looking beautiful by utilizing the best ingredients from nature formulated using special advanced technology. Hence, this was portrayed with an exciting twist of both
elegant classic and modern
in the interior design and ambiance.
I felt like a
princess
as soon as I stepped into THE FACE SHOP. The magical feeling is indescribable! Imagine being surrounded by so many beauty products in a luxurious powder room. The beautiful chandelier surrounded by nature greens was the centerpiece that elevated the luxury factor in the store. I love it!
My heart stopped a bit when I noticed the bling bling details that stood out on the labels in luxurious gold shade. My weakness is anything that shines and blings haha!
Overall, the store has a very inviting vibe due to its
minimal modernistic design
, warm white lighting and spaciousness.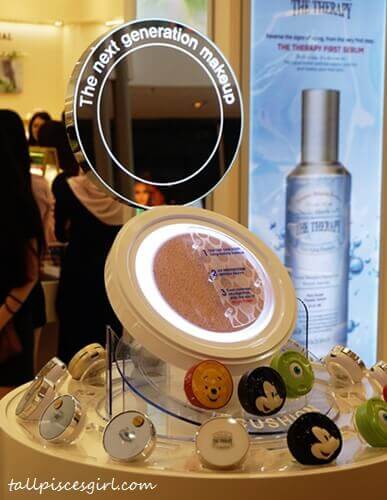 In the store, you will find a few special feature zones for their hero products to make shopping easier. The one that you will see as you as you stepped in is the Cushion Zone. At this zone, all the cushion foundation varieties were showcased so you know what are the choices you have and choose the one that is most suitable for your needs. Among them are The Therapy Anti-Aging Cushion, CC Cushion, Oil Control Water Cushion and other limited edition cushion foundation.
If you're a fan of Disney, you need to own these!! THE FACE SHOP has collaborated with Disney to come out with a collection that consists of BB Power Perfection Mickey, CC Long Lasting Mike Monsters Inc and CC Cooling Winnie The Pooh. Which one is your favorite?
I choose you, BB Power Perfection Mickey! Who would say no to Mickey? Plus, I really need the perfect coverage from this BB cushion.
Another hero product that you can't miss is The Therapy Anti-Aging range that is formulated with 200 year old natural blending technology from Europe. I was very lucky to have tried some products from this range. Check it out here: 
How to Boost Moisture with THE FACE SHOP The Therapy First Serum
For those who are new to the brand but don't know where to start, I recommend you refer to the Best Item Zone. Best Item Zone aims to introduce the must-buy star products to customers. Satisfaction guaranteed!
From left to right, top to bottom:
The Therapy Cushion Foundation
White Seed Blanclouding White Moisture Cream
Jeju Aloe Fresh Soothing Gel
Damyang Bamboo Fresh Soothing Gel
The Therapy First Serum
The Therapy Moisture Blending Formula Cream
With such a wide range of beauty products, it can get confusing sometimes. Noticing the pain point, THE FACE SHOP provides skin consultation for their customers using advanced technology devices. With this skin analysis result, you get to understand your skin better. Plus, the consultants are also able to know what your skin needs and pick the suitable products for you. Hence, you won't be wasting your money, buying something you don't need.
We got the chance to get a sneak peak on the latest product they're going to launch in Malaysia soon –
Daily Beauty Tools Creamy Bubble Maker
!
With only a small amount of foam cleanser and water, fine foam was created in no time by just rubbing continuously. This fine foam is essential for better cleansing result as they can penetrate into the pores and dissolve impurities efficiently.
The foam was velvety smooth and fine just like cloud but yet it doesn't budge even when I put my hand to the side. Check it out!
Can't wait to get my hands on this soon! Also, I'm definitely coming back to shop for Christmas!!
*hands itchy*
Last but not least, I had an amazing time participating in The Amazing Shopping Competition with fellow bloggers Fish Fong, Bowie Cheong and Angeline Tang. Thanks to our teamwork, we won first place!!! WOOHOO~~
For more information and future updates on THE FACE SHOP Malaysia, do visit and follow them at: Website:
https://www.thefaceshop.com.my/
Facebook Page:
www.facebook.com/thefaceshopmalaysia
Instagram:
www.instagram.com/thefaceshopmalaysia