Are you guys prepared for
Deepavali
(a.k.a. Diwali) yet? This is just the right timing to prepare some desserts and celebrate with our Hindu friends. We're 1Malaysia after all. Imagine how happy your Hindu neighbour will feel if you make some
Payasam
and share with them! Payasam is an auspicious and delicious classic Indian dessert that uses milk as main ingredient. It is usually thickened with rice or vermicelli, with ghee added for fragrance and sugar to bring it all together. Fun fact: Payasam in sanskrit means milk.
Refreshed Payasam Recipes with Fernleaf this Deepavali
Don't worry if you've never tried Payasam before or not sure how to make it. I'm here to your rescue, armed with recipes from Fernleaf. In order to create a more exciting twist to the classic recipe, Fernleaf invited 
Chef Annette Isaac
to come up with 3 wonderful variations of Payasam – the classic Fernleaf Payasam, Fernleaf Payasam Pudding and Fernleaf Payasam Ice Cream. For your information, Chef Annette Isaac is of part Indian and part Eurasian heritage so I really can't wait to see how her culture influence her cooking. For starters, she decided to give Payasam an unexpected Malaysian twist with the addition of Gula Melaka for added depth in flavour. After watching Fernleaf's Deepavali Cooking Demonstration, I realized how versatile and nutritious dairy can be as part of a daily diet. Besides drinking milk, we can also consume it through food! Without further delay, here's the recipe for different variations of Payasam.
Ingredients:
1/2 cup Sago
2 cups Water
8 tbsp Fernleaf Full Cream Milk Powder
3 cups Water and 1 cup Gula Melaka combined well
1/2 tsp Cardomom powder
A pinch Safron (optional)
1 tbsp Ghee
1/4 cup Cashew nuts
1/3 cup Raisins
10 gm Konyakku jelly powder
Payasam Gula Melaka Recipe
Heat up ghee in cooking pan until it melted.
Add and stir fry cashew nuts and raisins until golden brown. Remove from heat and set aside.
Boil sago in water until it became translucent.
Mix Fernleaf Full Cream Milk Powder, Gula Melaka and cardamom powder (spice) into the pot of sago.

Mr. Martin Soong, Marketing Manager of Fernleaf at Fonterra Brands Malaysia mixing Fernleaf Full Cream Powder

Add Safron (optional) into the pot, stir and slowly boil until it thickens.
Mix in cashew nuts and raisins.
Payasam Pudding Recipe
Repeat step 1-4 in Payasam Gula Melaka recipe.
Stir in Konyakku jelly powder and continue stirring until Payasam thickens. Remove from heat.
Let it cool down for a short while before scooping the mixture into jelly mould.
Refrigerate the pudding until it is firm. Serve with cashew nuts and raisins.
Payasam Ice Cream Recipe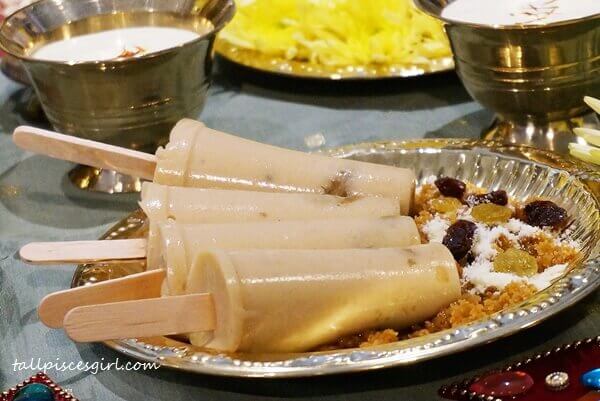 Repeat step 1-4 in Payasam Gula Melaka recipe.
Add in saffron (optional) and continue stirring until the Payasam thickens. Remove from heat.
Add cashew nuts and raisins into the ice cream mould.
Let the Payasam mixture cool down for a short while before scooping it into ice cream mould.
Leave it in the freezer until completely frozen.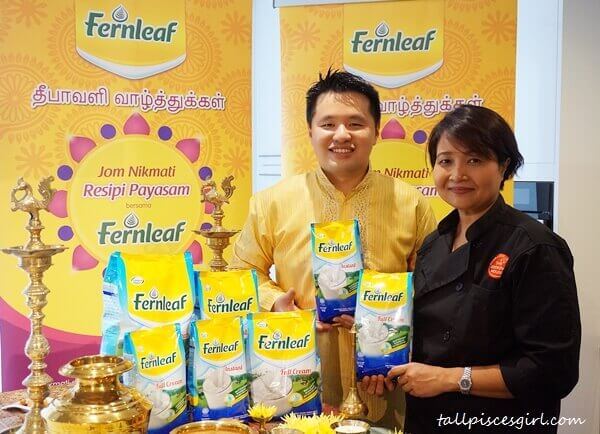 The use of Fernleaf Full Cream Milk and Gula Melaka in these recipes for different variation of Payasam gives it a
richer depth and flavour
compared to the traditional recipe, and refreshingly adds more fun to the festivities. If you want to try the delicious Payasam desserts and get recipe cards from Fernleaf, you can do so during
Fernleaf's Deepavali Onground Activities
at locations below.
15 October 2016, 4.30 pm: Little India, Jalan Leboh Ampang, Kuala Lumpur (in front of Bank Simpanan Nasional)
21 & 22 October 2016, 5.30 pm: Stadium Shah Alam (near the main stage)
26 & 27 October 2016, 5.30 pm: Little India, Brickfields, Kuala Lumpur (opposite Lotus Hotel next to the Water Fountain Structure)
Fernleaf Milk variation and price:
Fernleaf Full Cream Regular 1.8KG (RM53.45), 900g (RM27.80) and 550g (RM17.50)
Fernleaf Instant 1.1KG (RM 31.00) and 550g (RM 16.50)
Thanks to Fernleaf, I get to experience Henna for the first time. Received lots of compliments from it!