PANIC! Didn't realize that our Malaysian passport has already expired until few days before Medan/Lake Toba trip. Since our house is near
Kementerian Dalam Negeri (KDN) Jalan Duta
, we decided to go to
Jabatan Imigresen Malaysia (JIM)
that is just inside the building to renew our passports. This is also one of the
most efficient JPN/JIM branch
in Kuala Lumpur because it's the headquarter. It's located just opposite Publika.
The Process to Renew Passport in Malaysia
Step 1: Queue for number and get documents ready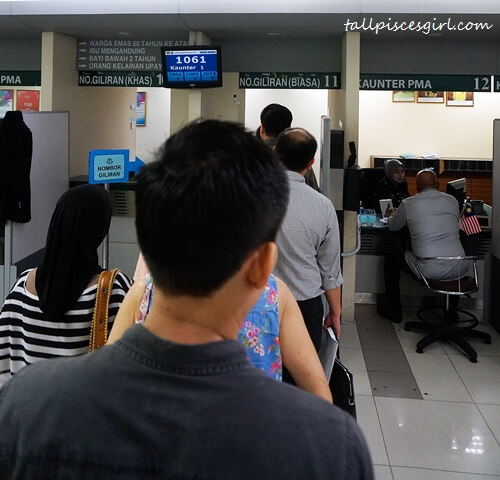 We reached at 10.18 am and queued for our numbers. After getting our queue number, we realized there were only 11 people ahead of us. There's no need to fill in any form. Just need to show the officer necessary documents. The documents required are: –
our old passport
our IC (identification card)
Step 2: Photo taking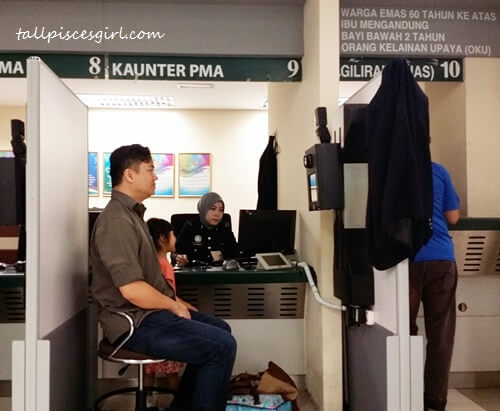 After waiting for 20 minutes, we proceed to one of the counters to get our photos taken (yes, you don't need to bring your own passport photos anymore!). By 10.55 am (17 minutes wait), we've paid our passport renewal fee of RM 200 each for 5 years.
Full Passport Renewal Fee in Malaysia (5 Years Validity)
| | |
| --- | --- |
| Normal Applicant (13-59 years old) | RM 200 |
| Senior Citizens (60 years old and above) | RM 100 |
| Students in Degree Program Studying Abroad (below 21 years old) | RM 100 |
| Haj Pilgrims (must have proof from Tabung Haji/authorized agency) | RM 100 |
| Disabled (OKU) | FREE |
Passport Size Photo in Malaysia
In case you want to bring your own photo, here are the requirements that you need to follow: –
The passport photo must be in 50mm x 35 mm with white background
The face from the bottom of your chin to the top of your head is 25 mm to 30 mm
For children below 4 years old, the passport photo must be in 35 mm x 50 mm with the same chin to the top of head size of 25 mm to 30 mm
Step 3: Wait to collect new Malaysian passport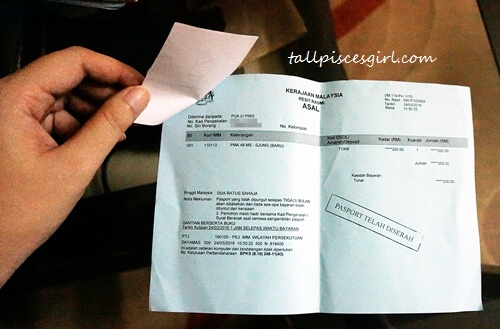 We were told that we have to wait for an hour maximum to get our new passport. So, we drove to Publika for a cup of coffee at Room 203 @ Fin KL.
We went back to KDN and by 11.45 am, our passports were already done, waiting for us to collect. If you're in a hurry, you can actually collect it some other day using your receipt instead of waiting for it to be done.
Total time needed for the whole process: 1 hour 27 minutes
Tips to speed up the process of passport renewal in Malaysia
Tip #1: Know your way in KDN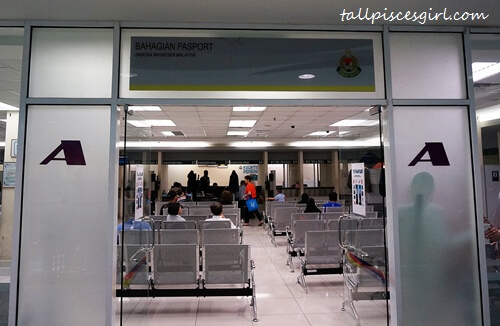 The building is quite big so it might take some time to reach the designated room.
Here's a helping hand:
As soon as you entered the building, turn right and take the escalator.
Then, turn left to the room labeled "A" for passport renewal.
Don't be distracted by the bazaar at the lobby!! 😆
Tip #2: Get your documents ready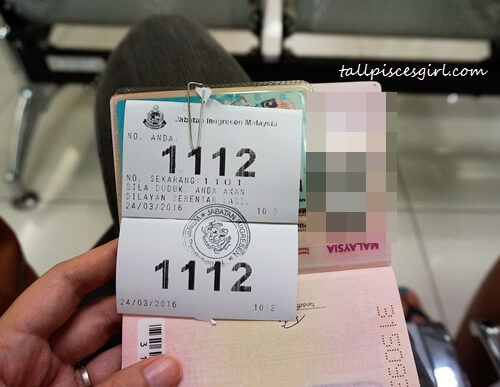 While queuing up for number, get your
old passport
and
IC (identification card)
ready. The officer will need to see them before handing you the number. Fiddling with your bag only when you need the documents will delay the process. Not only your time will be wasted, other people's time will be wasted too!
Tip #3: Go on weekdays
Be prepared to wait for whole day if you plan to go on weekend. A friend of mine recently renewed his passport at UTC on a weekend and he waited from 8.30 am until evening! My recent experience at Sri Hartamas took me less than 1.5 hours. Another friend of mine went to the UTC branch on a weekday at 8 pm and got everything done in just 1 hour!! Daebak!
The good news? You don't need to be there early (unless you're going during the weekend)!
I believe that if everyone follow my advice here, the time needed to renew passport in Malaysia can be reduced even more! Don't you agree? 😉
Renew Passport Malaysia Price (Validity: 5 years)
Normal Applicant (13 years old until 59 years old): RM200
Senior citizens (above 60 years old): RM100
Children (12 years and below): RM100
Students in the degree program studying abroad (below 21 years old): RM100
Haj Pilgrims (with proof from Tabung Haji or authorized agency): RM100
Disabled (OKU): Free
Note
:
For Degree Students under 21 years old pursuing study at the Institute of Higher Education abroad should submit the following supporting documents: –

Offer letter from college or university / scholarship letter / sponsorship
Receipt of registration fee
Matrix student card (if you are studying)

Disabled applicant are required to attach the Disabled Card issued by the Social Welfare Department as evidence.
Mode of payment can be either cash, credit card or via postal order.
Here's the address and opening hours for both Sri Hartamas and UTC KL branch.
Sri Hartamas:
Jabatan Imigresen Malaysia (Immigration Department of Malaysia)
Wilayah Persekutuan Kuala Lumpur,
Aras 1, Kompleks Kementerian Dalam Negeri,
Jalan Sri Hartamas 1, Off Jalan Dutamas 1,
50551 Kuala Lumpur
Opening Hours:
Monday – Thursday: 7.30 am – 5.30 pm (Break time: 1.00 pm – 2.00 pm)
Friday: 7.30 am – 5.30 pm (Break time for Friday prayers: 12.15 pm – 2.45 pm)
Saturday/Sunday/Public holiday: Closed
UTC Kuala Lumpur:
Jabatan Imigresen Malaysia (Immigration Department of Malaysia)
Cawangan UTC Kuala Lumpur,
Aras 2, Wisma UTC,
Jalan Pudu (Pudu Sentral),
55100 Kuala Lumpur
Opening Hours:
Monday – Thursday: 8.30 am – 9.30 pm (Break time: 7.00 pm – 8.00 pm)
Friday: 8.30 am – 9.30 pm (Break time: 12.15 pm – 2.45 pm / 7.00 pm – 8.00 pm)
Saturday – Sunday: 8.30 am – 9.30 pm (Break time: 7.00 pm – 8.00 pm)
For full list of opening hours for Immigration Department of Malaysia (KDN) branches, click here: https://www.imi.gov.my/portal2017/index.php/ms/hubungi-kami/waktu-urusan.html
P/S: Since they have recently changed passport vendor, the queues have been crazy. You guys might still need to be there early (4 am) to avoid finished number problem. Just remember to get your documents on hand while in the queue. If you arrive there at 7 am, you might need to be back another day for passport collection. Good luck!
Renew Passport Online
GOOD NEWS! You can now renew your passport online through the MyOnline Passport eServices portal. Great for those who just don't have time to go to the branch directly.
With MyOnline Passport, you can renew the passport online and make your payment using Credit Card or FPX. Once done, you can then collect your passport at the date, time and location determined by the system.
Do let me know your experience if you've tried it.