This Christmas,
Cheras LeisureMall
unveils a meaningful theme for the season – '
Christmas From The Heart
'. After all, this is the season of giving. Even as the mall is transformed into a glimmering wonderland, the celebration bears deeper significance as we are all invited to participate in the annual "
Toy Bank – A Gift of Love
" programme from now
until 27th December 2015
. This annual charity campaign is a good opportunity to bring smiles to underprivileged children's faces by fulfilling their wishes.
Christmas From The Heart
As the late President Nelson Mandela has said, "There can be no keener revelation of a society's soul than the way in which it treats its children". Indeed children are every society's treasures and our best hope for the future. Therefore, let's not forget the less fortunate kids as we celebrate the season of giving. Let us find it in our hearts to give them a ray of sunshine, so that they too, will shine bright in the future. Here's a step-by-step guide on how to be part of this meaningful cause:
Pick a card from the wishing tree
Select a toy or gift from child's wish list
Deposit the gift together with the wish card at the Toy Bank located at Ground Floor Concourse
Alternatively, you can also donate household items such as rice, cooking oil, toiletries, canned food, detergent, story books and school books.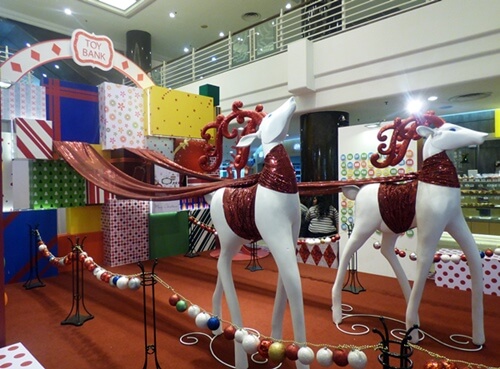 The children from these respective orphanages and charity organizations will be at Cheras LeisureMall on 29 December 2015 to receive the gifts after a fun-filled day at the mall:
Shepherd's Centre Foundation
Trinity Community Children's Home
Persatuan Kebajikan Warga Tua Dan Kanak-Kanak WP
Pusat Jagaan Beribuan Kasih, Kajang
Bodhi Homecare Cheras
San Pedro Orphanage Home
Rumah Sayangan
Rumah Kanak Kanak Angels
Persatuan Kebajikan Kanak-Kanak Cornerstone
Yayasan Sunbeams Home, Rainbow Home
Rumah Bakti Nur Syaheera
Pusat Majudiri Y for the Deaf
Christmas can be so much more than a festive holiday. This is one of the reasons why I love to celebrate Christmas so much. Together, let's make Christmas a heartwarming season that encompasses great love and joy.