A lot has been said about Tesla cars regarding their innovative technology and finally, I had the honor to experience
Tesla Model S 85
myself during EV Experience event, courtesy of Tesla Malaysia and Cyberview.
Besides experiencing Tesla Model S 85, I'm glad to be able to get a glimpse into the future. It seems that it's possible to replace gasoline which will deplete sooner or later with electric.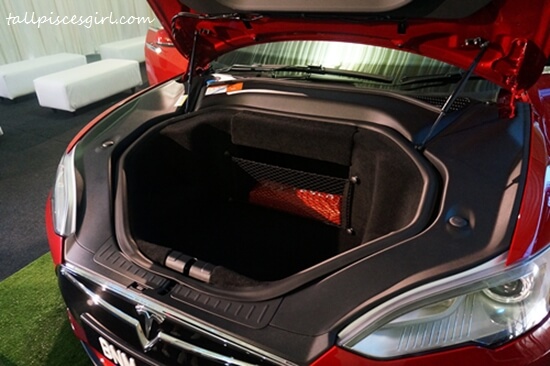 Tesla Model S 85
Under the hood a.k.a. bonnet, the absence of a bulky engine makes it spacious and thus, there's extra 5.3 cubic ft. storage space. Tesla calls this as "the trunk".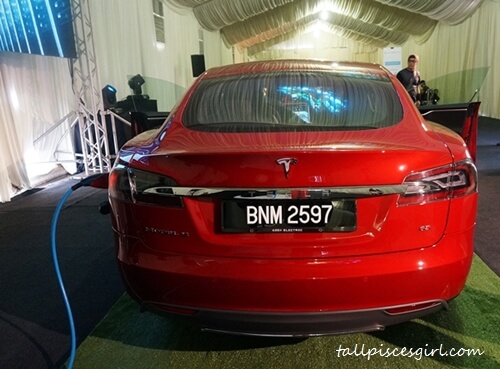 Tesla's advanced electric powertrain delivers an amazing performance. Unlike a gasoline internal combustion engine with hundreds of moving parts, Tesla electric motors have only one moving piece: the rotor. As a result, Model S acceleration is instantaneous, silent, and smooth. Step on the accelerator and in as little as 3.2 seconds Model S is travelling 60 miles per hour, without a drop of gasoline. Model S is an evolution in automobile engineering.
Scan the streamlined body panels and you'll realize that Model S lacks a fuel door. The hidden charge port automatically opens when driver's side taillight is approached with a charging connector. The charging connector can only be removed when Model S is unlocked.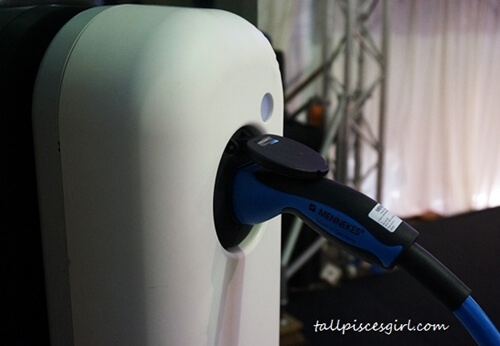 The 17″ touchscreen controls most of the car's functions. With a swipe or a touch, you can open the all glass panoramic roof, customize the automatic climate control, and change the radio station. It is also equipped with high definition backup camera, optimized for visibility and safety. The touchscreen, digital instrument cluster, and steering wheel controls seamlessly integrate media, navigation, communications, cabin controls and vehicle data.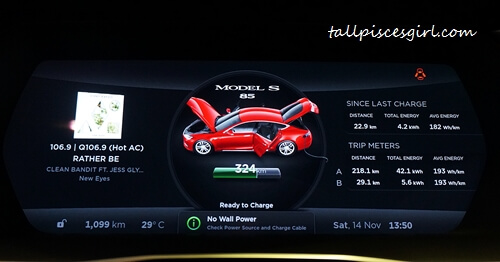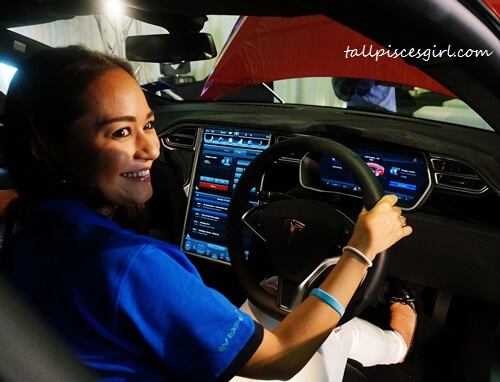 Model S is designed from the ground up to be the safest car on the road, as proven by a 5-star rating in all categories of the National Highway Traffic Safety Administration (NHTSA) crash test. Much of its safety is owed to the unique electric drivetrain that sits beneath the car's aluminum occupant cell in its own subframe. This unique positioning both lowers the car's center of gravity, which improves handling and minimizes rollover risk, and replaces the heavy engine block with impact absorbing boron steel rails. Side impacts are met by aluminum pillars reinforced with steel rails to reduce intrusion, protecting occupants and the battery pack while improving roof stiffness. In the event of an accident, eight airbags protect front and rear occupants, and the battery system automatically disconnects the main power source. Should the worst happen, there is no safer car to be in than Model S.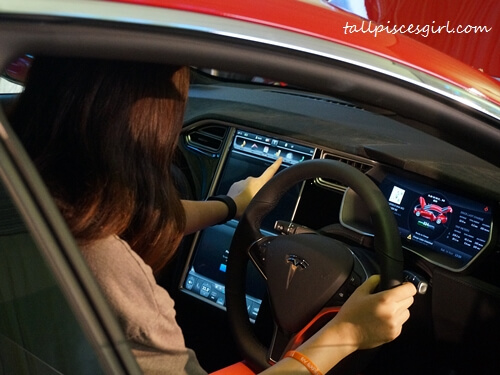 There's basically not a button on the car, everything is controlled using the touch screen! Autopilot combines a forward looking camera, radar, and 360 degree sonar sensors with real time traffic updates to automatically drive Model S on the open road and in dense stop and go traffic. Changing lanes becomes as simple as a tap of the turn signal. When you arrive at your destination, you can step out of the car and let Model S park itself. This car is currently available on lease to government-linked companies (GLC) via GreenTech Malaysia. I'm hoping that it will be able for the public really soon as we really need to protect the environment. The Tesla Model S70D is priced at about US$71,000 (RM302,354) while the Model S85 is at US$85,000 (RM361,973). After government taxes though, the price can go up to double. It'll be awesome if there's tax reduction for buying electric cars. For more information on Tesla vehicles, check out their website:
www.teslamotors.com
.