When it comes to welcoming the Lunar New Year, a grand reunion of families and friends is part of the culture. Not forgetting a feast for 收工酒/开工酒 to reward your staffs for the contributions they've made throughout the year. If you believe the key to their heart is through their stomach like I do, you'll need to taste the tantalizing dishes that
Zuan Yuan Chinese Restaurant @ One World Hotel
are offering this Chinese New Year.
Our feast started by tossing our way to a Goat (good) year ahead with
Yee Sang with Crispy Soft Shell Crabs
. They were very generous on the crispy soft shell crabs and I must say that it's the crowd-pleaser!
As the waitress pour the condiments and sauce, she started to utter auspicious greetings in accordance to the name of the condiment. I'm impressed!
We can't run from prawn and fish in a Chinese New Year feast due to the significant meaning they carry. Prawn symbolizes laughter (哈哈笑) while fish brings the meaning of prosperity (年年有余). And for this, we had 
Wok Fried Jumbo Tiger Prawns with Superior Soy Sauce
and 
Steamed Dragon Garoupa with Bean Curds and Black Fungus in King Soy Sauce
. So Jumbo Tiger Prawns wasn't a gimmick afterall! We were surprised by the huge prawn size – it almost covered the whole plate. It was fresh and very flavorful, thanks to the superior soy sauce.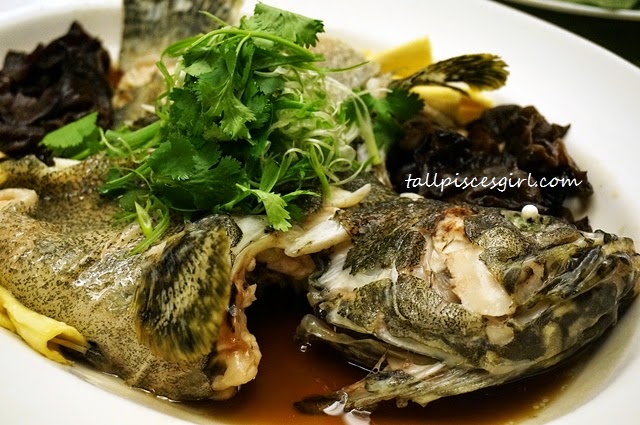 Perfectly steamed with king soy sauce, this Dragon Garoupa's meat was very smooth and bursting with sweetness; a sign of fresh seafood.
After all the meat dishes, it's time for some greens… AND MORE SEAFOOD! The
Braised Abalone, Dried Oyster, Sea Moss and Mushroom
tastes great when complemented with superior oyster sauce. The braised abalone that looked like gold ingot took the limelight. The sauce is also perfect as gravy with a nice steaming bowl of rice.
Next, we were presented with a generous serving of
Roasted "Pi Pa" Duck Traditional Style
. With moist duck meat and crispy duck skin, this combination is match made in heaven. What more could I ask for? I just couldn't stop myself from getting one serving after another although I tried to reserve more space in my stomach for the next dishes.
During typical Chinese feast, everyone will be pretty full by the time steamed rice was presented and there will be a lot of leftovers. It wasn't the case for this time though because Zuan Yuan's 
Steamed Rice with Preserved Meat and Diced Duck Wrapped in Lotus Leaves
is just too good to resist. I'm totally digging the waxed chicken meat and duck meat as they made this dish so flavorful. Since Zuan Yuan is a
pork-free
restaurant, they have replaced pork with chicken and duck without affecting the standard taste. The steamed rice was very moist unlike the usual dry ones which made them easier to consume.
We ended our awesome Chinese New Year feast with a sweet note –
Fried Traditional Nian Gao with Yam and Sweet Potatoes
and 
Double Boiled Sea, Coconut, Snow Lotus Pear, Red Dates and Snow Lotus Seeds
. Set menus are priced at RM 1,488++, RM 1,688++ and RM 1,888++ for a table of ten with two complimentary bottles of wine.
Zuan Yuan
remains open on the eve of Lunar New Year and throughout the festive period. For more information or reservation enquiries, please call 603-7681 1159 or email
zuanyuan@oneworldhotel.com.my
. Click
here
for
full Blossoms of Fortune Chinese New Year set menu
.
Address
: Zuan Yuan Chinese Restaurant One World Hotel, First Avenue, Bandar Utama, Petaling Jaya
My food adventures at Zuan Yuan
:
Sze Chuan Menu & Mooncakes @ Zuan Yuan, One World Hotel
Zuan Yuan Chinese New Year Festive Menus 2013
Zuan Yuan New Menu Food Review @ One World Hotel