What do you notice and envy most when watching Japanese/Korean drama? For me, it is definitely the beauty and fairness of the casts. How can they look so perfect?!
Noticing the demand of whitening products in the market, here comes
Tokyo Love Soap
; a soap that boasts instant whitening and poreless effect just after one use. It can be used on face, body and intimate area which is an all-in-one solution for whitening needs.
tallpiscesgirl X Tokyo Love Soap Pure Girls
Natta Cosme's Beautiful Surprise!
Thanks to Natta Cosme for the special delivery of Tokyo Love Soap Pure Girls and a sample of Tokyo Love Soap (Medicated) for review purpose! If you haven't know about them yet, remember to check them out through the links at the end of this post. You don't wanna miss the great offers on superb products that they have!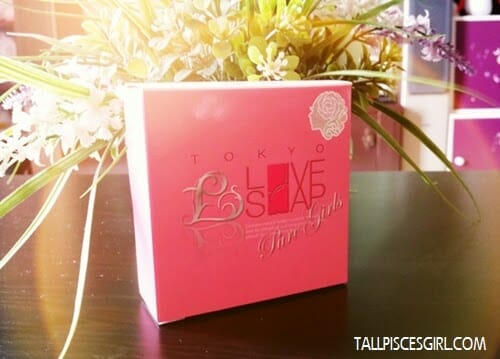 Tokyo Love Soap Pure Girls
Tokyo Love Soap is originally formulated with Hydrolyzed Elastin and Hydrolyzed Swiftlet Extract for skin smoothening and vagina tightening. For
Tokyo Love Soap Pure Girls
, a fresh unique scent of Pink Rose Petal Extracts and mixture of Miroestrol is formulated in such a way that it mimics the natural female sex
pheromone
to trigger sexual attraction and desire of the male species. The soap's new formulation also included natural plant sterols from Red Kwao Krua (Butea superba) containing Miroestrol, a natural Estrogenic Phenol clinically proven to minimize pores, smoothen the skin and add a natural rosy tone to your skin.
Instructions on how to use Tokyo Love Soap
Wet the skin.
Apply Tokyo Love Soap gently to the face and the body.
Make a lather and leave the product for at least 3 minutes.
Rinse and repeat if necessary.
For best result, use every time you shower.
Lathering Tokyo Love Soap Pure Girls
Verdict:
I've tested Tokyo Love Soap Pure Girls on my arm; lathered and left it on my arm for 3 minutes. I noticed my arm looks slightly brighter just after first use! Before and after using it, there was a slight tingling sensation as if my skin was peeling.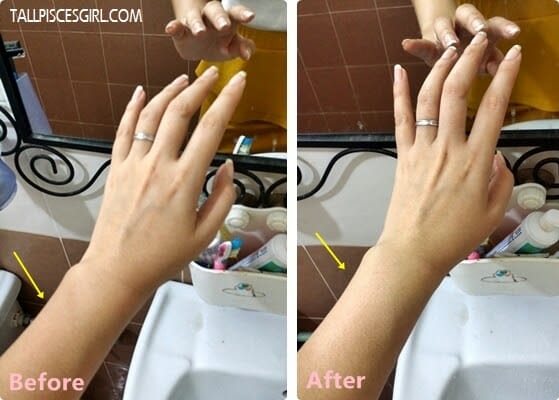 Before/After Tokyo Love Soap Pure Girls
For reading this post until the end, here's a reward for you! Get a FREE Tokyo Love Soap (Medicated) 15g when you purchase any Tokyo Love Soap from Natta Cosme. Just enter coupon code "TLSM" when you checkout =)
It's limited to 100 pcs only, so please hurry!
Rating: ★★★☆☆
Price: RM 148 RM 85
Don't forget to follow Natta Cosme's social media channels for instant updates~~~