When couples are together for a long time, they eventually will go out of the house lesser and lesser. Trust me. Instead of going out to crowded places and braving the jam, staying in and cuddle up will be a better choice during weekends.
This weekend, Clumsy Boy and I decided to watch a movie at home from
Bento Live
instead of going to the cinema. I heard from a friend that Bento Live's website provides video streaming service that is absolutely
FREE
to use. The only catch is, I'll have to watch a short advertisement (around 1 minute) and I'm absolutely fine with that because I'm watching a movie
LEGALLY
! A big applause to them for their effort in combating piracy and also support local movies. There's also an option whether to watch in HD quality (recommended if details matters to you) or non-HD quality (recommended if you have bandwidth quota).
Bento Live's website offers a variety of movies, documentaries, dramas and anime. In the meantime, 60 movie titles available on their website and they're planning to add in more titles real soon! The best thing is, it has English and Malay subtitles for us to choose. Pirated ones normally either doesn't have subtitle, only with Chinese subtitle (bananas like me cannot understand) or with totally wrong English subtitles that will certainly spoil my mood for watching.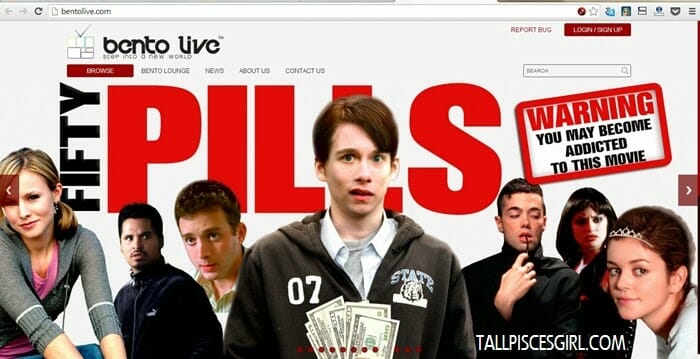 Bento Live Main Page
Realizing that we need a good laugh to de-stress, Clumsy Boy and I has chosen
Fifty Pills
in comedy genre. Overall, the movie was hilarious and I love watching movies on college life. Basically, the main lead (Darren) got into trouble in college and lost his scholarship so he has to sell fifty pills out to cover his tuition fees. The only bad point about this movie is, the casts look too old to be in college!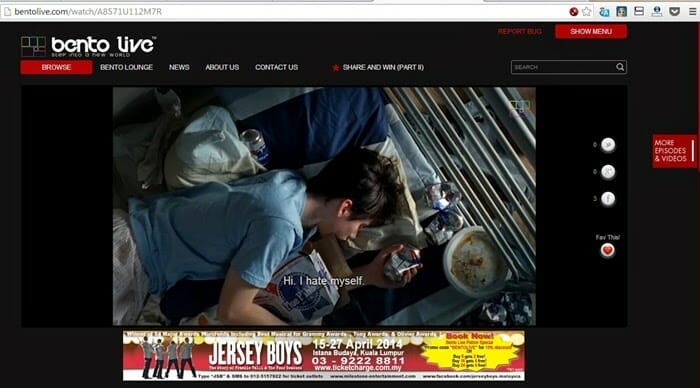 Bento Live Fifty Pills
Last week, I visited the Bento Live office to view the Bento Live app on a
75¡± Samsung Smart TV
. Jaw dropped upon seeing the flawless HD quality! And this is the first time I watched a movie on such a big TV. Before a movie was being loaded, we're required to watch a short advertisement like this:
https://www.youtube.com/watch?v=5lT4YLGqWqI
Bento Live
Bento Live app is only available on Samsung Smart TV so make sure you choose your TV wisely 😉
Bento Live app is only available on Samsung Smart TV!
Bento Live app is also available on
Android
. If you're a Samsung user, you can get it for
free at Samsung Apps Store
(YESSSSS!!!!). Non-Samsung users are required to pay a one time fee of RM 6.50 to download the app and enjoy the movies. Still very worth it!
By the way, here's a contest alert!
Bento Live is giving away 2 Samsung 40″ Smart TVs
once a month!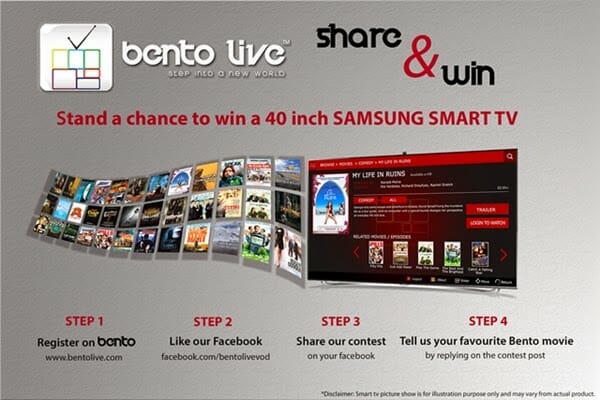 Bento Live Share and Win Contest
All you need to do is:
Register an account on bentolive.com
Like the Bento Live facebook page (facebook.com/bentolivevod)
Share the contest post
Reply on contest post of your favourite movie