Good morning peeps!! If you haven't knew, I was involved in a photo shoot last week! Can't reveal what it is yet until it's up in October but I rewarded myself with a mask when I got home LOL! I always find a reason/excuse to pamper myself :p
Tired look… My lips are so pale!
Beautymate Polypeptide Collagen Revitalizing Mask
Got this mask from HiShop's giveaway and due to Raya holidays, it arrived quite late. Can't wait to use it already hahaha! YAY! It's Beautymate Polypeptide Collagen Revitalizing Mask!
Beautymate Polypeptide Collagen Revitalizing Mask
Roughness and dryness is the main factors for generating fine lines that makes your skin imperfect. Polypeptide Collagen is the best nutrient supplement to reduce wrinkles caused by dehydration. In penetrates into the skin to regain moisture lost and increase the moisture level instantaneously. Sodium Hyaluronate, Aloe, Glycosyl Trehalose and other moisturizing ingredients could replenish 1,000 times of water immediately. In addition, natural plant extracts could repair skin intensively and prevent from environmental harm. It can even smoothen small fine lines on the skin.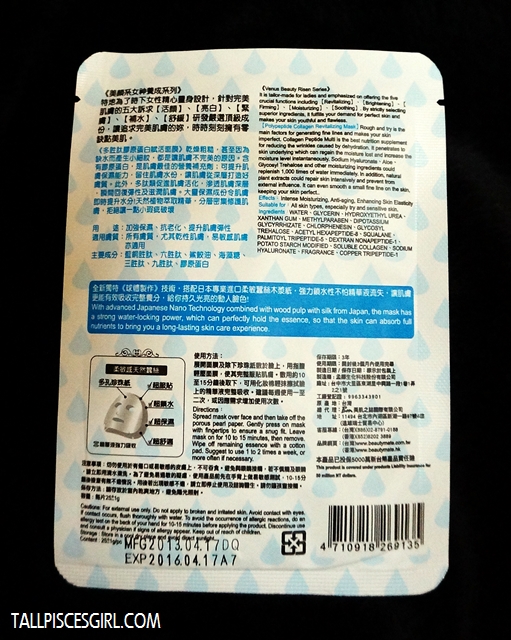 The back of the packaging
Ingredients: Water, Glycerin, Hydroxyethyl Urea, Xanthan Gum, Methylparaben, Dipotassium Glycyrrhizate, Chlorphenesin, Glycosyl Trehalose, Acetyl Hexapeptide-8, Squalane, Palmitoyl Tripeptide-5, Dextran Nonapeptide-1, Potato starch modified, Soluble collagen, Sodium Hyaluronate, fragrance, Copper Tripeptide-1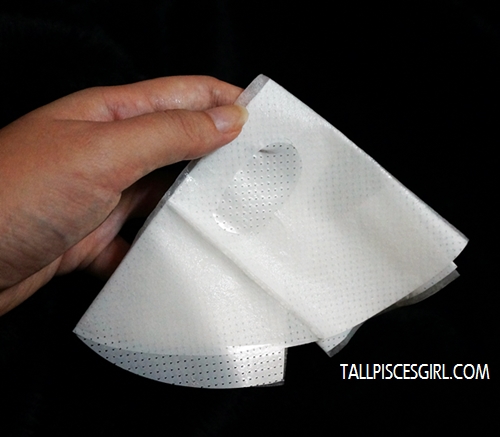 Super moisturized piece of mask!
The essence is dripping!
How to use: Spread mask over face and then take off the porous pearl paper. Gently press on mask with fingertips to ensure a snug fit. Leave mask on for 10 to 15 minutes, then remove. Wipe off remaining essence with a cotton pad (I pat it on instead and then wipe the mask's essence onto my neck as well to prevent wastage). Suggest to use 1 to 2 times a week, or more often if necessary.
Camwhore with le mask first! :p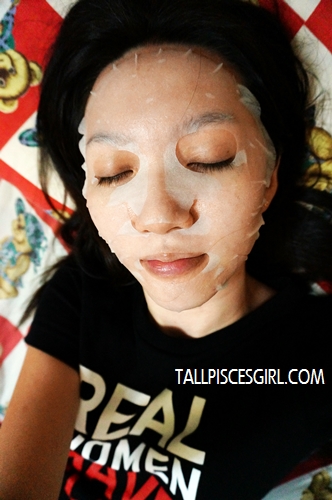 Close your eyes and let go of everything in mind
Verdict:
The mask's material was really thin, allowing the essence to be able to go through the cloth and into my skin. But I need to be extra careful when adjusting the mask because the thin material will break easily. When adjusted properly, the mask will be able to give a lifting effect. I love the feeling it gave me when I'm having it on: cooling and moisturizing. My skin felt instantly refreshed!
Smooth and hydrated skin after using the mask