Hello loves! It has been such a hectic week for me, I have no idea why all the events are cramped into the same week LOL! Maybe it was an auspicious week? XD
If you've been following my
Instagram
and
Facebook page
and you're wondering why I suddenly transformed to a pretty girl like the one in photo below, here's the story:
So last 2 weekends, I felt blessed that I was invited by Luxe Swinger Malaysia for a bloggers' fashion shoot session at their store in Publika. It was truly an eye opening experience! FYI, Luxe Swinger is Malaysia's most trusted premium online fashion destination that houses many brands for shopaholics like me to choose.
The process started with choosing my desired attire and then proceeds to makeup. My makeup artist from Backstage Academy, Amy was very friendly and bubbly so we had a little chit chat and joked around. Glad I met her! Her makeup skills were so good and it suits me well! THAT was the reason why I looked pretty afterwards! 😉
Ugly duckling transforming to a pretty swan!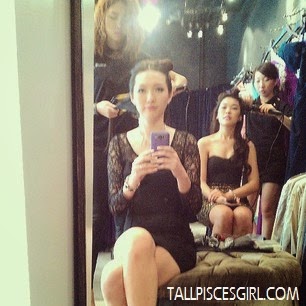 Now, the hair! Thanks Julie for making my hair look fabulous!
Didn't notice the photo was blurry though :/
A behind-the-scene shot that I really really like!
Finally I can have the experience of becoming a model for a day =)
I know, I know… you're excited to see the end result right? Thanks to the photographer from Peoplegraphy, the photos are awesome! So here it is!
TA-DAH!!!
#likeamodel
What do you think? At first sight, I quite like this knee-length
evening dress by Bardot
but after trying it on, I LOVE IT! I think it suits me and my personality a lot! If I go to a wedding dinner wearing this dress, I need not worry that people are going to mistake me as the bride hahaha! I'm serious! If I wear a long evening gown, I'd feel that it's too formal and over since my friends won't be wearing like that anyway so it's important for me to blend into the culture.
For my style, I love to wear attires that are
simple but nice
so the cutting and laces on the dress are the
little details
that made the design of the whole dress looks special, not too plain and a hint of sexiness. Plus, black color is never out of fashion! Right?
The most important principle when picking an attire is make sure that it
complements you
, not the other way round. It's you who should be wearing the dress, not the dress wearing you (directly translated from a popular Cantonese saying: 是你穿衣,不是衣穿你).
This is a video that summarizes everything on the photo shooting… I was so nervous I don't know what I was talking T__T I'm not good in talking, that's why I write in blogs instead of doing vlogs!
In order to make this experience more memorable, I hope that I can get your
precious vote to win a limited edition Bimba y Lola clutch bag
. All you have to do is to to click on the 'Like' button below the title of this post and also comment on this blog post. Please please please~~~
*puppy eyes*
THANK YOU IN ADVANCE MY DEAR! MUAHHHHH~~~
Come watch us walk the runway this Saturday at 4.50pm!
Address
:
Luxe Swinger
,
Lot 15, Level G2,
Publika Solaris Dutamas