If you have sensitive skin, I'm sure you've heard of
Avène
before since Avène is one of the leading brands that has products gentle enough even to the most
sensitive skin
. Since the discovery of the medical quality of Saint Odile spring in Avène in 1736, the thermal spring water has healed numerous human and animals in their skin diseases. Now, there is an
Avène Hydrotherapy Center
that can accommodate 4,000 patients and it is connected directly to the source of the spring to ensure the quality of
Avène Thermal spring water
.
In
Avene Sérénage Beauty Workshop
held at Berjaya Times Square Hotel,
Mr. Damien Tavernier
(PFDC Asia Pacific Trainer) has briefed us about how Avène Thermal spring water was discovered, what benefits it brings and also the history of Avène and their breakthroughs.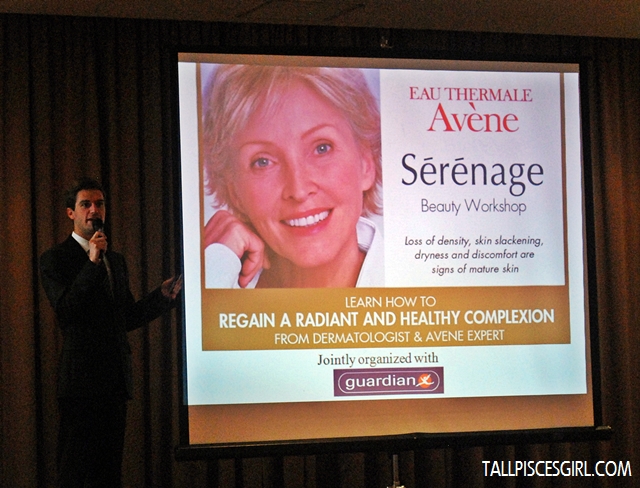 Mr. Damien Tavernier
Next up,
Dato Dr. Low Bin Tick
, a renowned dermatologist came up to talk about aging of the skin including the structure of the skin and what causes the skin to have wrinkles.
According to him, among the biological effects of aging in the skin are:
Dry skin
Fine lines, wrinkles, skin sagging, brown spots, pigmentation & little red lines
Enlargement of sebaceous glands
Impaired wound healing
And what is the most important step to prevent wrinkles and pigmentation is to apply sunblock!! Never ever skip sunblock even though the sky is gloomy because there are still harmful rays that can penetrate your skin.
Dato Dr. Low Bin Tick
Avène has developed patented technologies like Retinaldehyde and Hyaluronic Acid Fragments that offers anti-aging solutions that target at both early stage of aging and mature aging. Thus, Avène Sérénage is their solution to make you age beautifully and with a radiant skin.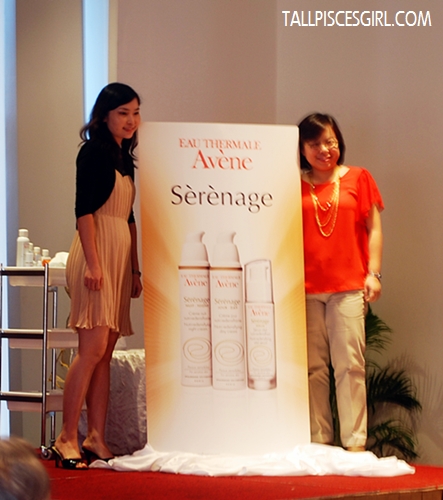 Launching of Avène Sérénage
With the launching of Avene Serenage, Mr. Damien Tavernier has explained the ingredients in the products and how to use them.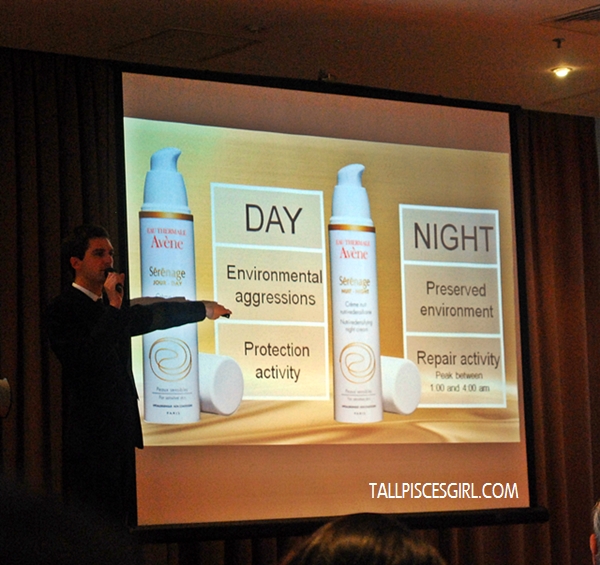 Sérénage Nutri-Redensifying Day Cream & Sérénage Nutri-Redensifying Night Cream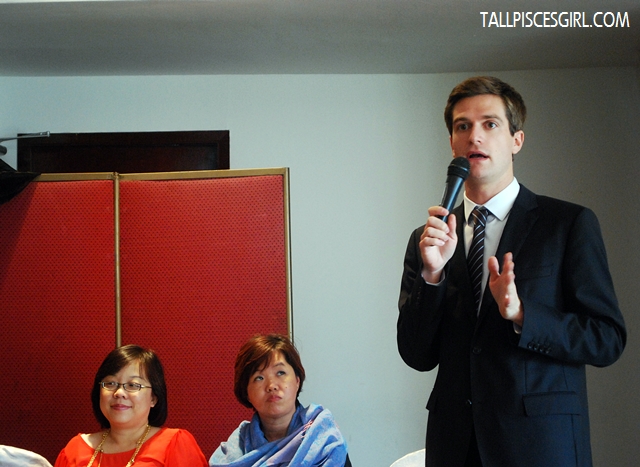 Q&A Session to answer all your doubts
After the introduction about Avene, an in-depth knowledge of our skin and Serenage products, it's time for a hands-on! YAY to pampering session!!! 😀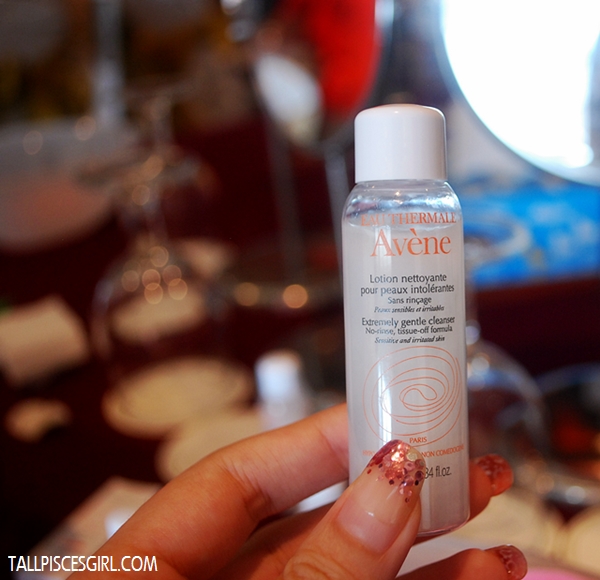 I used Avene Extremely Gentle Cleanser to cleanse my makeup
We were given paper masks
So what you need to do here is spray the paper mask with Avene Thermal Spring Water until it turns damp.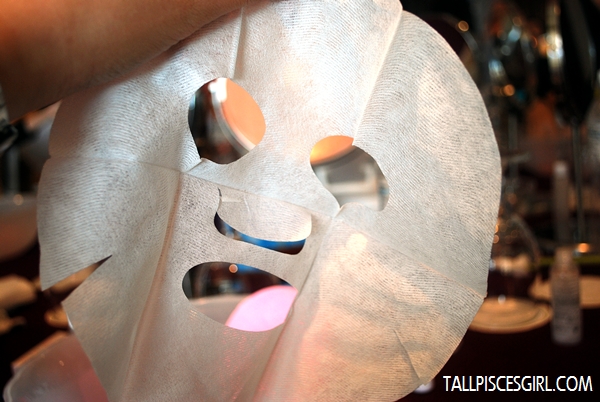 Then, open up the paper mask
Warning
: OK… you need to get ready before seeing the next photo…
TADAH!!! Scary hor? T.T
If it's not wet enough, you can still spray more Thermal Spring Water onto the mask. Ahhhh~~~ It's so invigorating and refreshing!!! It's like doing water spa for my face =)
Trying Sérénage Nutri-Redensifying Day Cream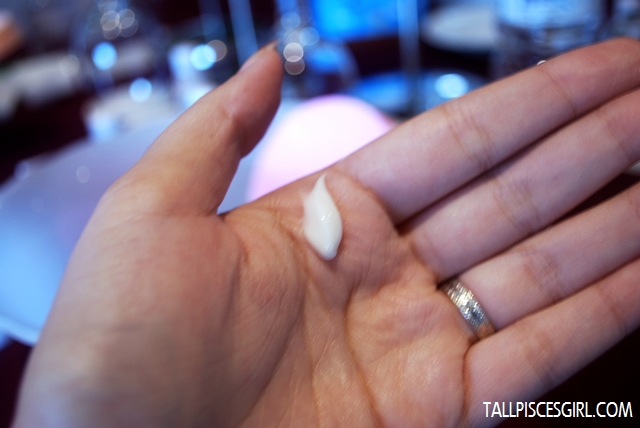 And mostly importantly, sunblock!!!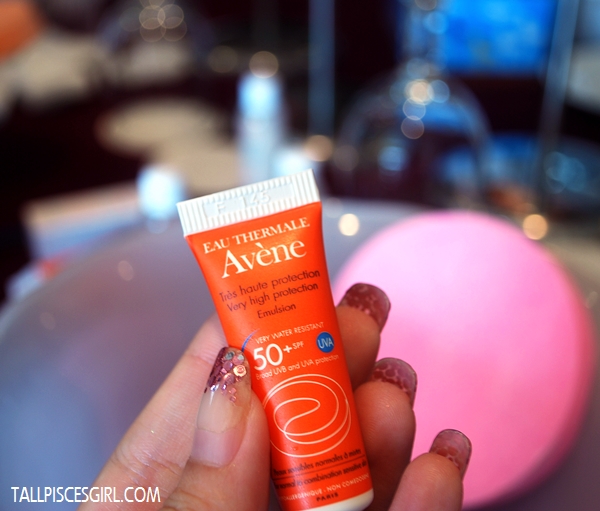 Avene Very High Protection Emulsion SPF 50+
For more information on upcoming workshops, don't forget to follow closely to
Avène Malaysia's Facebook Page
!