Ok my readers, this is what happened on 9th April 2011.
I was on my way to Ah Boy's house and I still have around 200m left to arrive. As the traffic light turned red, me and the lorry in front of me eventually stopped. But when I look into the rear mirror, I saw the car behind me has no intention of stopping! I thought if switching to the next lane but it's too late… "BANG!!!!" my car has been hit…HARD!!! And because the impact is too big, my car hit the lorry in front of me.
Everything in my car scattered on the floor…CDs, coins, cards, etc. but I don't care. I immediately grabbed my phone from the floor and get out from my car cause I'm afraid there'll be explosion or what (watched too much movie). The car that hit me is a Waja. The driver was shaking profusely I thought she's going to die!!! Later, I learnt that she's having epilepsy. I called Ah Boy and he came running from his house, and I also called for police but I was so panic my hands are shaking T.T
The ambulance arrived quite late. Around 45 minutes. Someone called backed to check if the ambulance has arrived but I said no. Then he said "But they informed me they've arrived". I was like "Then obviously they're lying la! Duh…" but anyway, I just said "I didn't saw lor… haven't arrive yet lor". Luckily I wasn't hurt or else I might have died waiting.
So what do I do with my car? I called AAM for tow service but apparently they don't cover accident, they only cover breakdown so we were given the number of their panel workshop. In the meantime, there's this workshop agents who came to me and asked me to let them tow my car instead.
The conversations are very "interesting". Let me tell you what kind of tactics they used so that you won't fall for it.
Tactic 1
=======
Me: So how much if you help me to tow to police station?
Workshop guy: Around RM 120 – RM 150 lor… Wei tow to police station how much ar? (asking his supervisor)
Supervisor: No need pay la… we cover
Workshop guy: My supervisor say no need pay wor
Me: Sure or not? Don't after tow only tell me need to pay
Workshop guy: Won't la… I bluff you for what… But you need to pay 'some fees' to 'some people' lor
Me: !!! If I don't wanna pay?
Workshop guy: Then you need to wait 2 weeks lor
Me: Never mind la I can wait… so no need pay anything right?
Workshop guy: You like lor (I can see from his expression that if I don't pay, it will affect him. Later on I found out that actually the workshop should cover EVERYTHING. Means don't need to pay a single cent.)
Tactic 2
=======
Workshop guy: The workshop you called is at where? Our workshop is at Batu Caves… very near only
Me: Oh really? The workshop I called is also at Batu Caves wor
Workshop guy: Let us tow la… same only ma
Me: No need la… I called them already, "same only ma"… :p
Tactic 3
=======
Workshop guy: The workshop you called belongs to Malay? Give us do la… Both of us also Chinese, easier, we won't bluff you wan…
Me: No wor… the workshop I called is Chinese wan….
Workshop guy: ……..
Tactic 4
=======
Workshop guy: Since that Waja already engage in our service, why not you also engage in our service le? Then we can tow to police station together ma…
Me: Never mind la… I also called already lor… they're coming already… why don't you tow that Waja first?
Workshop guy: The driver already went to hospital… So our staff already followed her to hospital and get her authorization before we can tow the car
Me: Oh I see…. (Later on, I learnt that their staff didn't go to hospital to get the Waja driver's authorization! It's a lie!)
Tactic 5
=======
Workshop guy: Oh no! Traffic police came already! He will saman you if you don't remove your car! He won't care it's accident or what. Faster sign this authorization slip then we help you tow away.
Me: Hah? Really??? *Ignored him and rushed to my car to prevent from kena saman. Then I explained to the traffic police that the tow truck is already coming.*
Later on, I heard from people that their workmanship sucks. Parts that need to be replaced are just repaired but they claimed the amount for replacement instead of repair.
Ok! End of story! Here's some photos to show you guys how hurt my car is T.T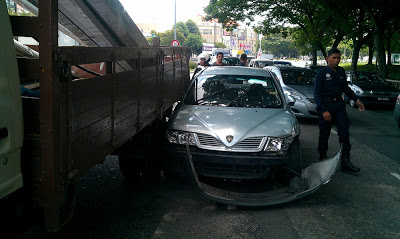 The Waja
My 'butt'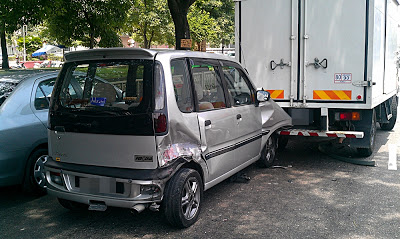 Overview of my car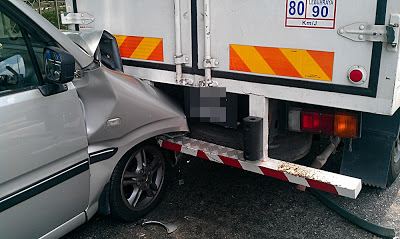 T.T Wuahhhhhhh!!!!!
Cracked mirror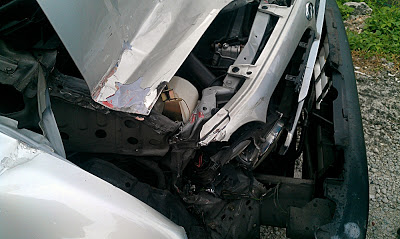 *Speehless*